Continuing with our series : From traveler's perspective, today we have a beautiful photo essay from the streets of Florence by a charming family of digital nomads from Unsettle Down. If you are ready for your summer promenade down Florence streets, you can find bus tickets to Florence on Polazak. If you are still not convinced, keep reading!
Ciao from our first day in Firenze, Italia!
Today we headed to downtown Florence with no particular plans. We just wanted to explore. It turned out to be better than we could have imagined.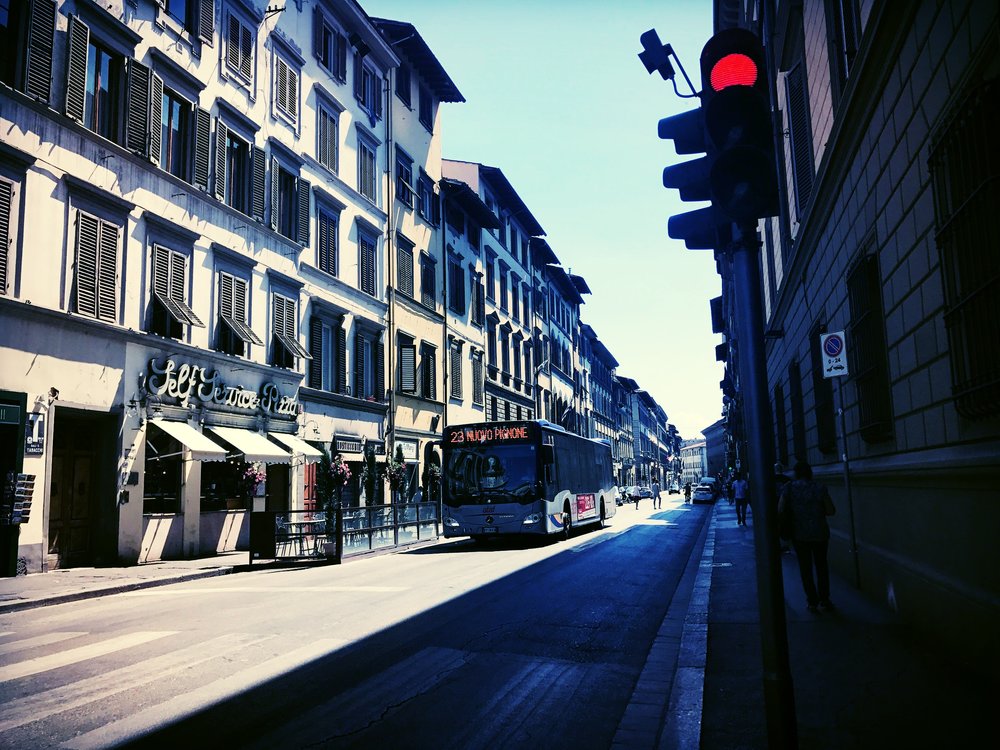 After a bit of work this morning we caught a bus near our AirBnB in Coverciano. It took us to Centro Storico, also known as the historic downtown center, so we could get acquainted with our new home.
We were dropped off at San Marcos Square, which is an attraction in its own right. Today though, we passed by the famous church to save it for another outing. We then headed down Via Ricasoli to the main attraction of Florence, the magnificent Il Duomo di Firenze.

The towering domed cathedral is utterly breathtaking. When you catch one glimpse you are physically drawn to the structure. When you finally see the Duomo in its full glory you begin to wonder how it even came to be. It is lager than life. And the attention to detail of the historic cathedral is beyond words.
There are 3 main buildings that populate the Piazza - the famous Duomo itself, the Baptistry of St. John, and the Campanile. Each is equal to the next in artistic historical significance and engineering excellence. Maybe the least famous is the Campanile, or bell tower, that sits adjacent to Filippo Brunelleschi's magnificent domed cathedral.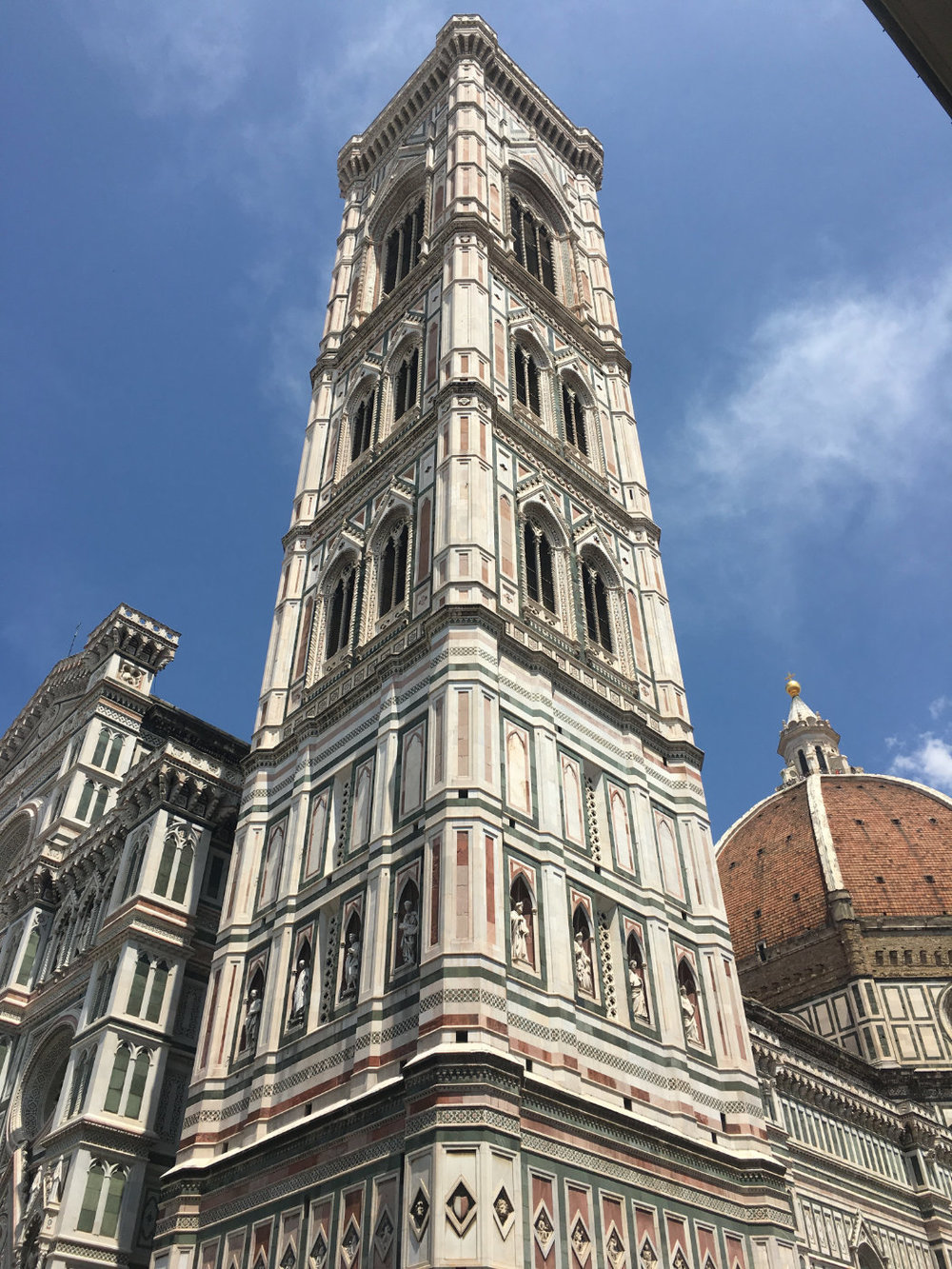 A man named Giotto di Bondone designed the structure in 1334, but died only a few years after construction began. The ornately decorated and geometrically perfect tower was originally engineered to be over 400 ft tall, but today tops out at about 277 ft, or 85 meters.
Though Giotto passed so early in the building of his masterpiece, his successors worked through the decades after his death stopping only as the Black Plague swept across Europe, until it was completed in 1359. There are 7 grand bells in the structure. They are still rung every day on the hour and can be heard for miles around the city.
In case you hadn't figured it out yet, I'm going to nerd-out on art, art history, and history, in that order. Hold onto your butts.
All in all, our first time at the Piazza del Duomo today was magical. We walked around the back of Il Duomo just as the 6 pm bells were starting in the Campanile di Giotto. Sometimes the unplanned days lead to the best and most inspiring experiences. Hearing the bells chime in the Piazza del Duomo while watching my wife and daughter dance will forever be one of my fondest memories. It was here that I really felt that our journey had begun in earnest.
As we were touring the surrounding area we even happened upon a man throwing bubbles into the wind for all the children around the building. It was a welcome change of pace for Kai, who cares not a bit for marble or old Italian men and their creations.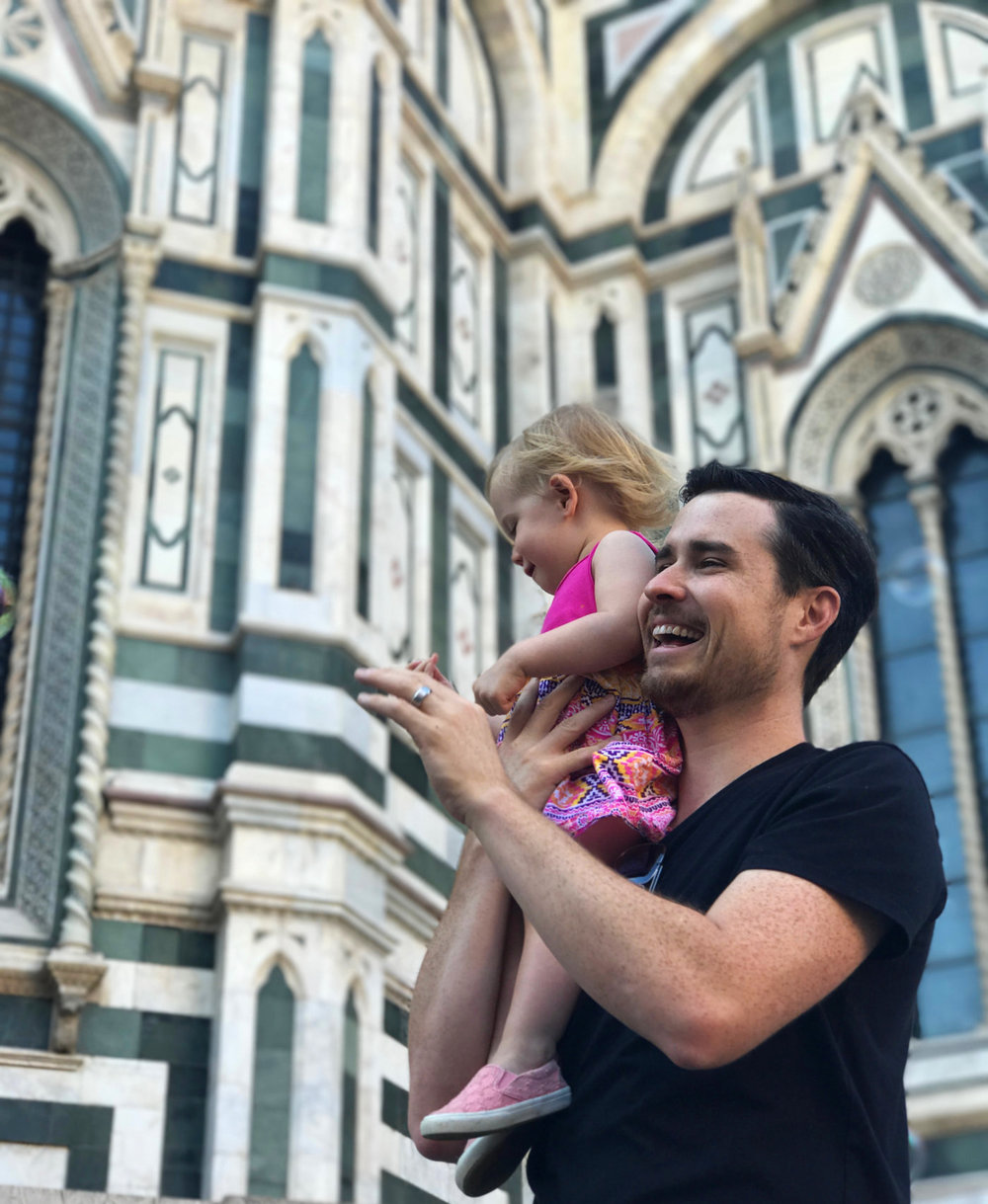 Apparently I also nerd-out for bubbles.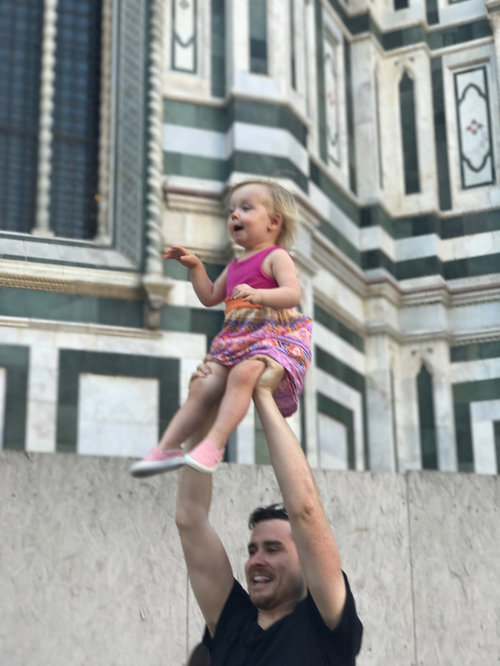 Anyway... Il Duomo di Firenze is maybe the most awe-inspiring structure I've seen in person. The screen you're looking at won't do the building justice in the least, but this is our effort to convey the scale and sophistication of maybe the most famous cathedral in Northern Italy.
This feels a bit like home...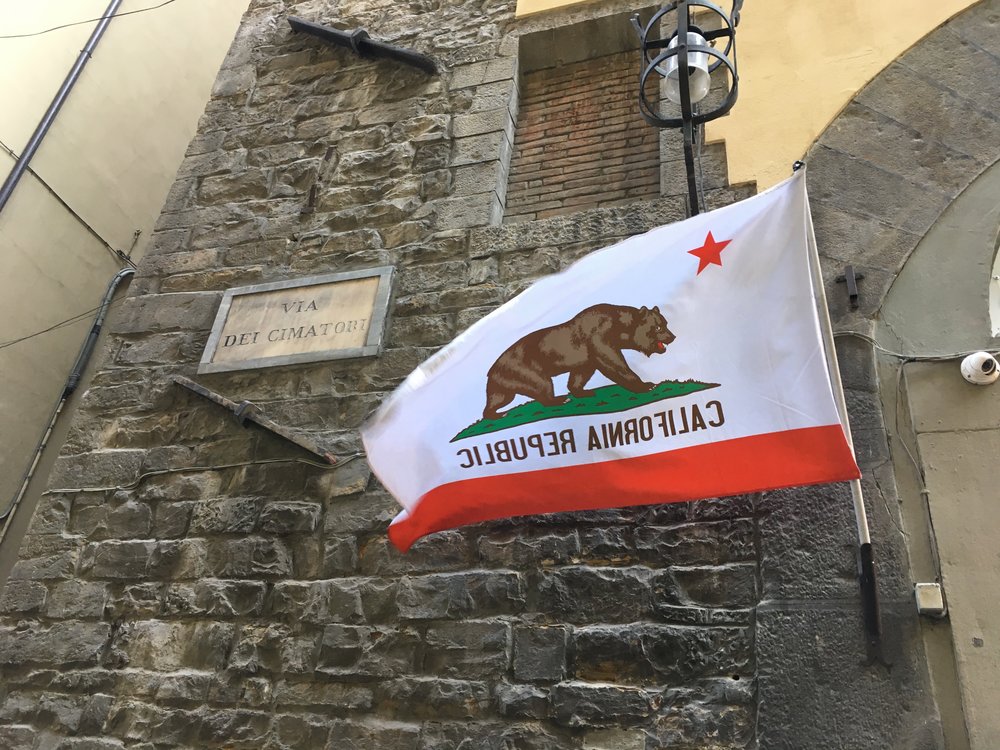 From there we twisted our way through alleys looking for antipasto and happened upon a California state flag outside of a local fruit stand.
Around another side street was a shop dedicated solely to classic stamps. We couldn't resist the photo opportunity.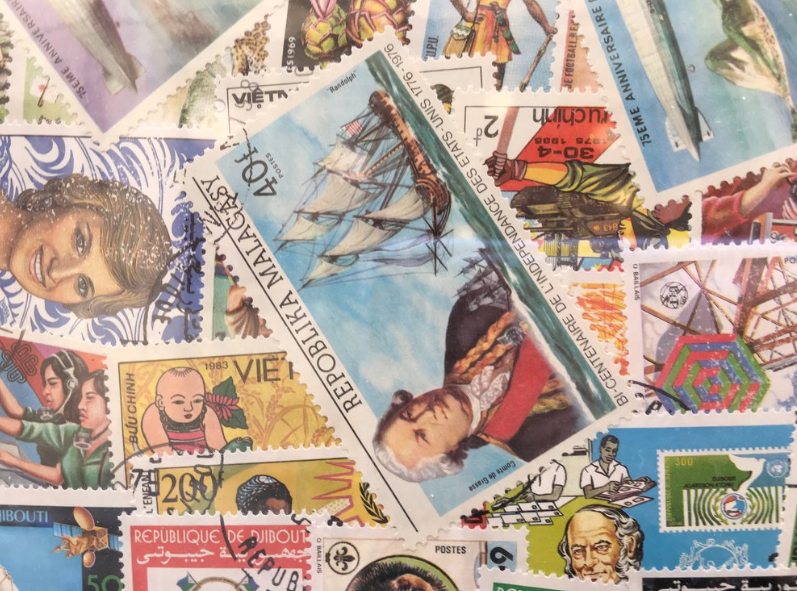 Art hiding in plain sight
For every grandiose and ornate structure in Florence, there are at least two doors. The most famous of these are Lorenzo Ghiberti's bronze doors on St. John's Baptistry. But since those particular doors are off limits and protected by metal bars, Chelsea came up with an idea to pose in front of any other doors we could find along our way.
This is when we really found out why this city is so beloved. Every corner of Firenze is artfully crafted and thoughtfully maintained. We thought it only proper to take silly photos.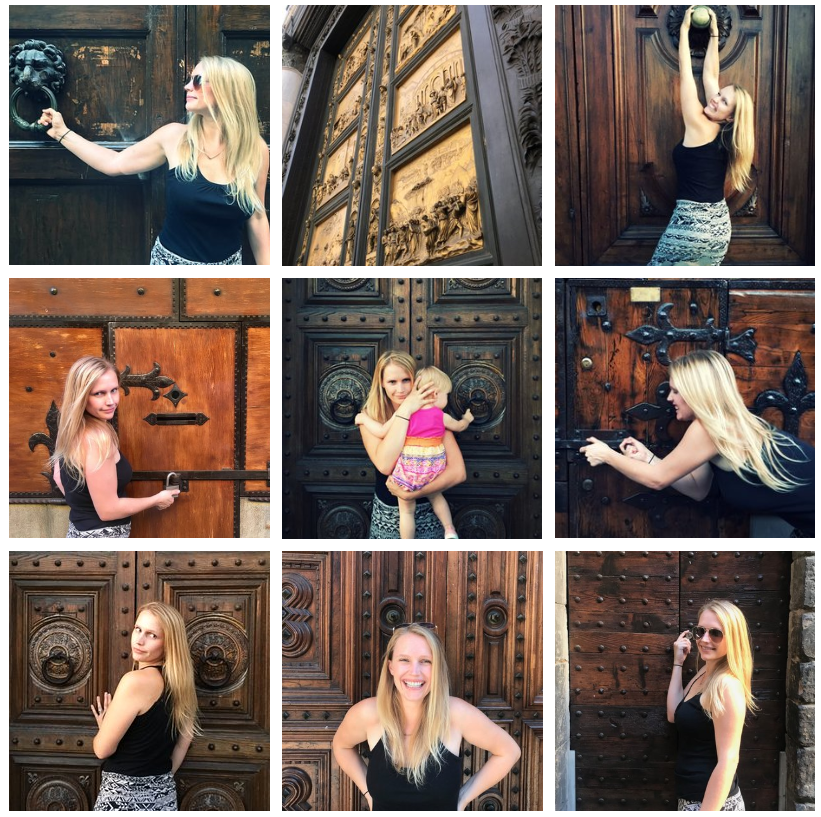 And though it may be few and far between in the historic downtown, you can find colorful points of street art that will catch your eye as you pass. Here are some of my favorites, two by the same artist.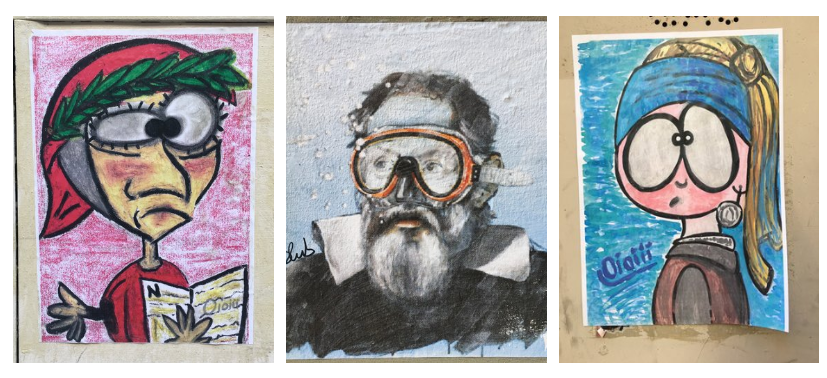 A break for baby
It was at this point that Kai was fast asleep in her stroller. We veered off into an alley to grab a bite and a sip of the local fare. We were greeted by some fellow Americans, recent college graduates, who were on their way from Rome through Florence to Venice in a single day. Those crazy kids.
Kai woke up not too long after we sat down. We just sat and enjoyed our time together as a family.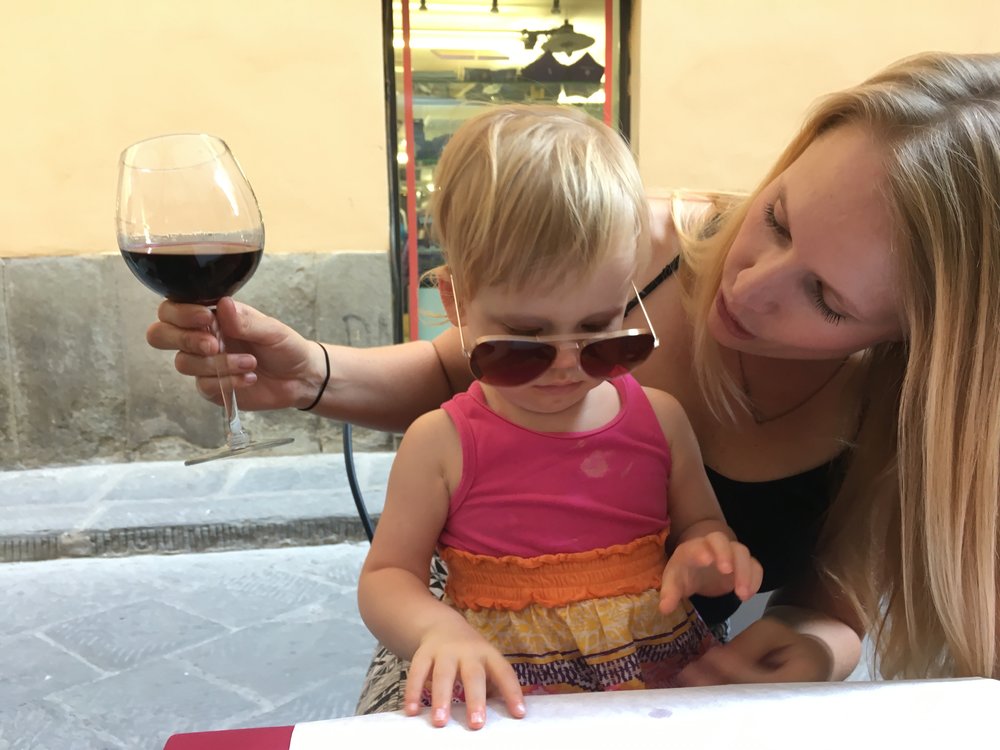 Then a beautiful little moment happened.
Sometimes along the way on your travels the best stories come from the most unexpected places. We sat for lunch in a quiet alley near Il Duomo while our daughter slept in her stroller when a nun passed by with flowers in her hand.
I snapped this picture on her walk back. She stopped to say hello and fell in love with our daughter. "Bella! Bella!" We exchanged words in different languages for a few minutes. She left with a smile on her face.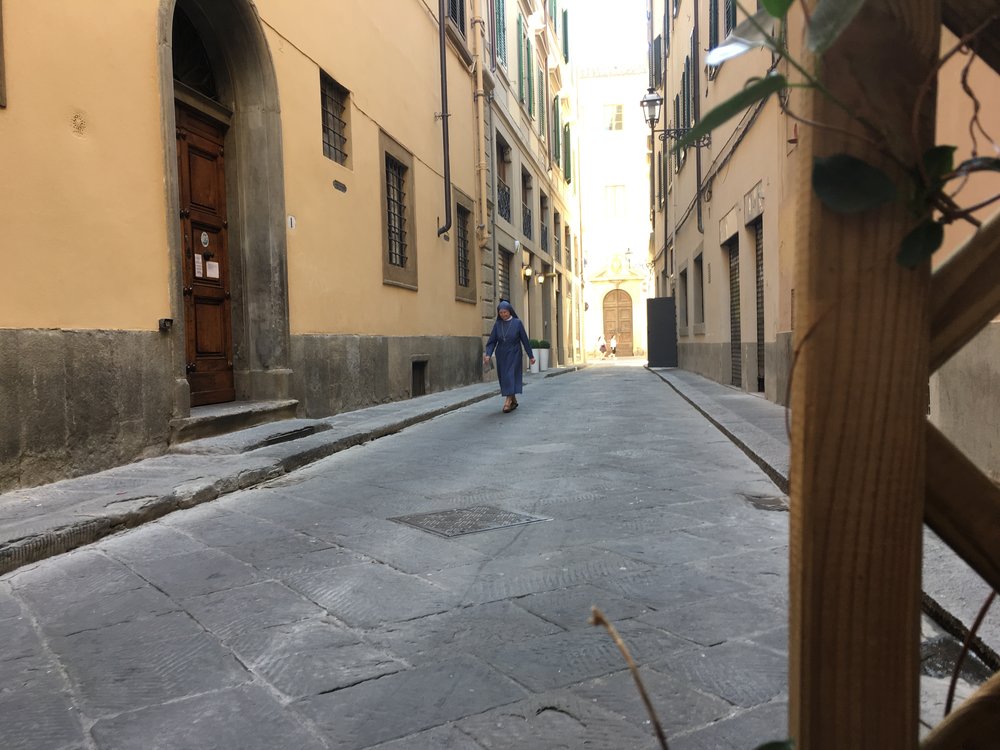 An inconsequential experience to some, but to us it was a chance happening that seemed momentous. The meeting left an impression on both parties, and isn't that's what it's all about? We won't soon forget you, suora.
Soon after enjoying some salted meats and cheeses of varying hardness we made our way to the Piazza della Signoria in front of the Palazzo Vecchio.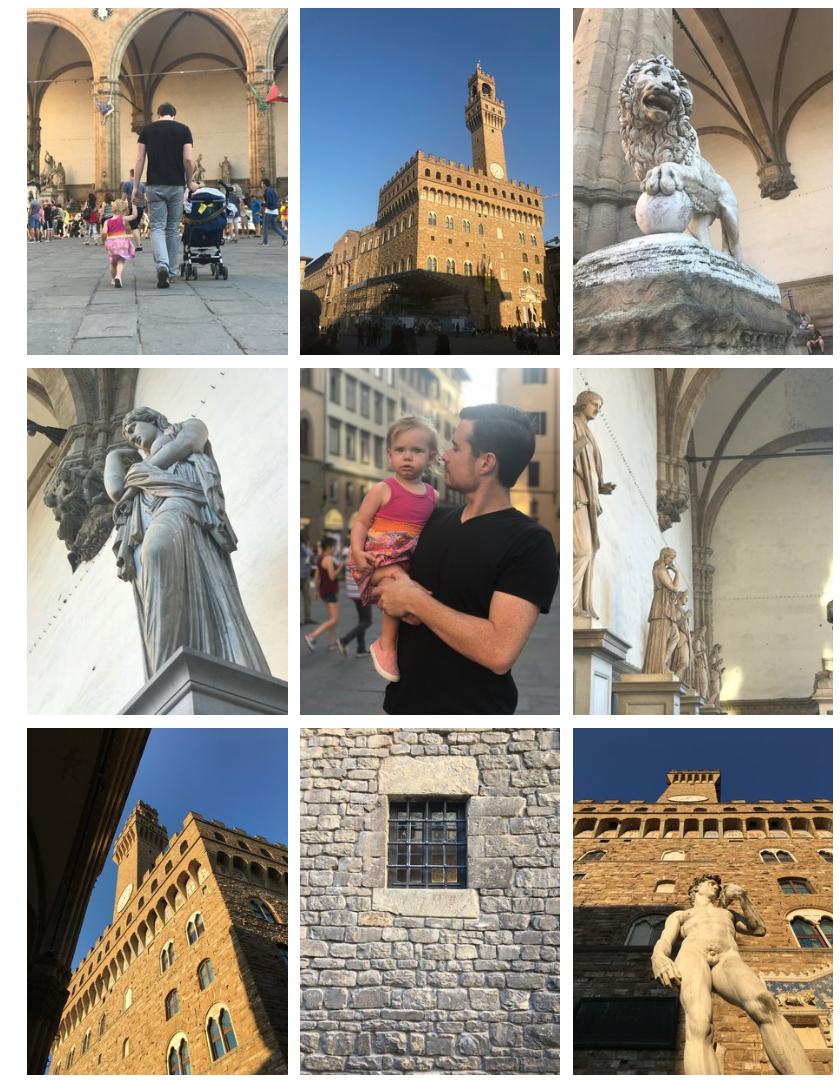 This building serves as the city hall, and the space around is it's city center. We stood in awe of the numerous master piece sculptures and classical architecture as Kai frolicked around chasing common pigeons. There's much more to come from this area of downtown later.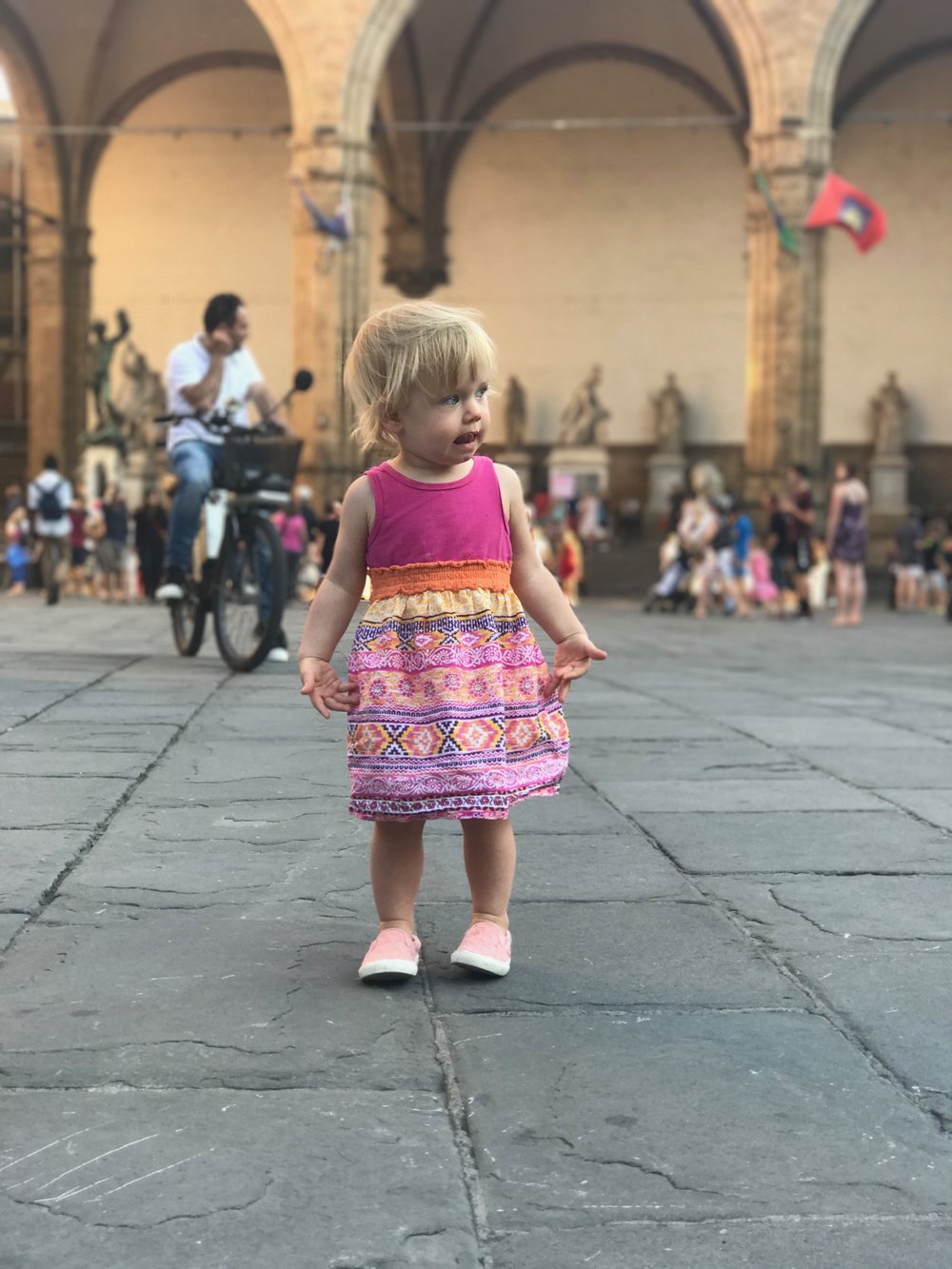 As we continued, we quickly passed through the outdoor atrium of the Uffizi Gallery on our way to the Arno River for sunset. We did manage to capture some of the scale and beauty of the space in a quick panorama.

We then made it just in time to catch the sunset over the Arno from the Ponte Vecchio. It was there that we began to soak in our whirlwind of a day. We were absolutely beat, but could not stop smiling from then on, even through the bus ride home. Florence is an absolutely magical city, and we are so lucky to be able to experience it in this way.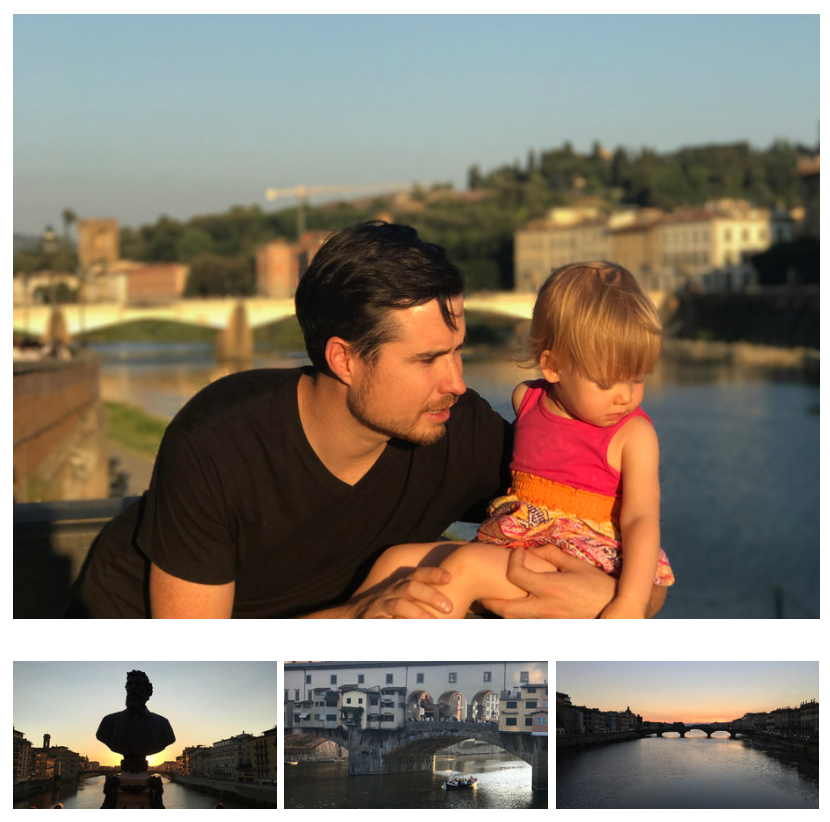 One last thought
Traveling with a child is hard work. And we only have one so far! We can't even begin to fathom how families with two or three or five children make it work (we're talking about all our instagram friends here, props to you guys).
But while it is difficult at times, it really makes you slow down and live in the moment and space that surrounds you. Our daughter makes us appreciate the littlest of things and the shortest of moments. And after all is told, why wouldn't we want to share this experience with anyone other than this perfect little being?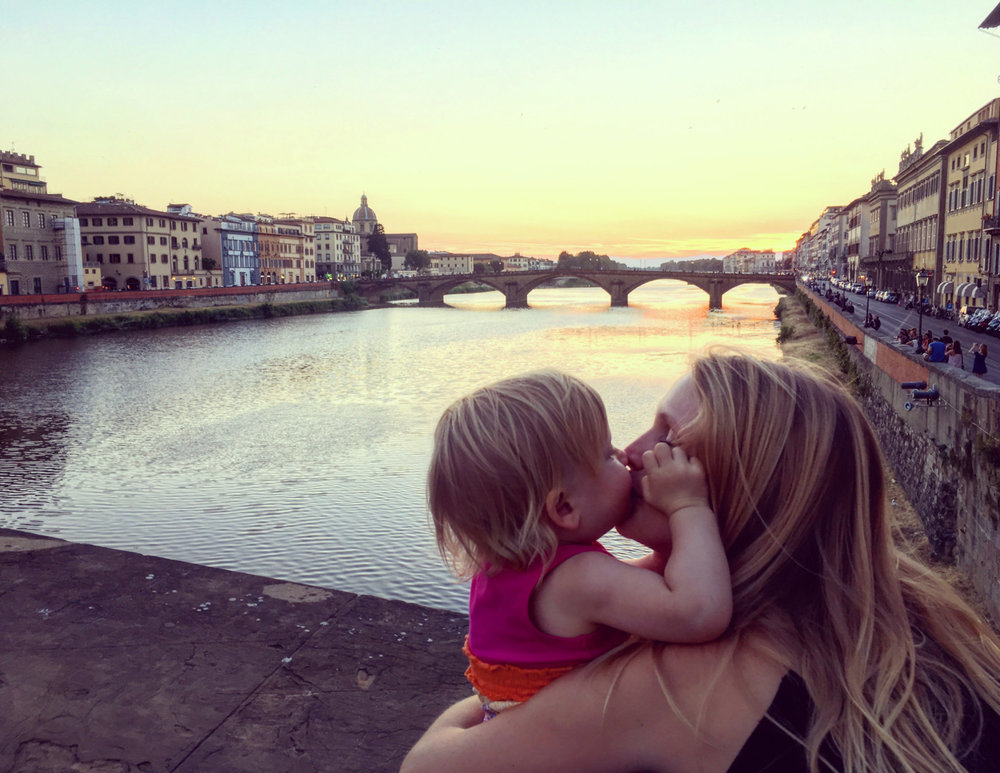 Ciao until next time!
Traveler: Matt from Unsettle Down, a family of digital nomads, full-time wanderers, and renegades determined to see the world's most beautiful places.
Italia
Photo essay, Florence
How did you like this journey? Be sure to let us know in the comments. And don't forget, bus tickets for Florence are available on Polazak. We wish you safe and fun travels!