You can easily buy a ticket the international bus transport from many European cities to Serbian destinations and back.
1) In the TIMETABLE section, enter your departure and arrival station and set the date of your travel. Please be aware that tickets need to be booked at least 24 hours in advance. When you set it all, click "SEARCH".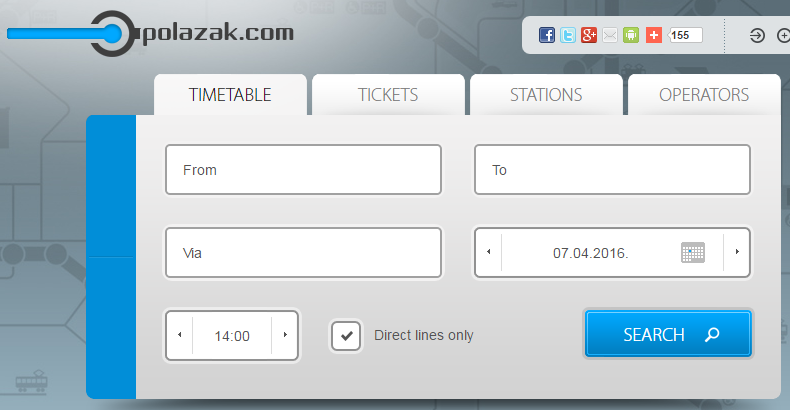 2) The list of departures will be displayed with travel duration, departure/arrival time, distance and price information. To check all intermediate stops and the details about your eventual change, open the departure. When you choose the one that fits most into your time schedule, click the Shopping Cart icon.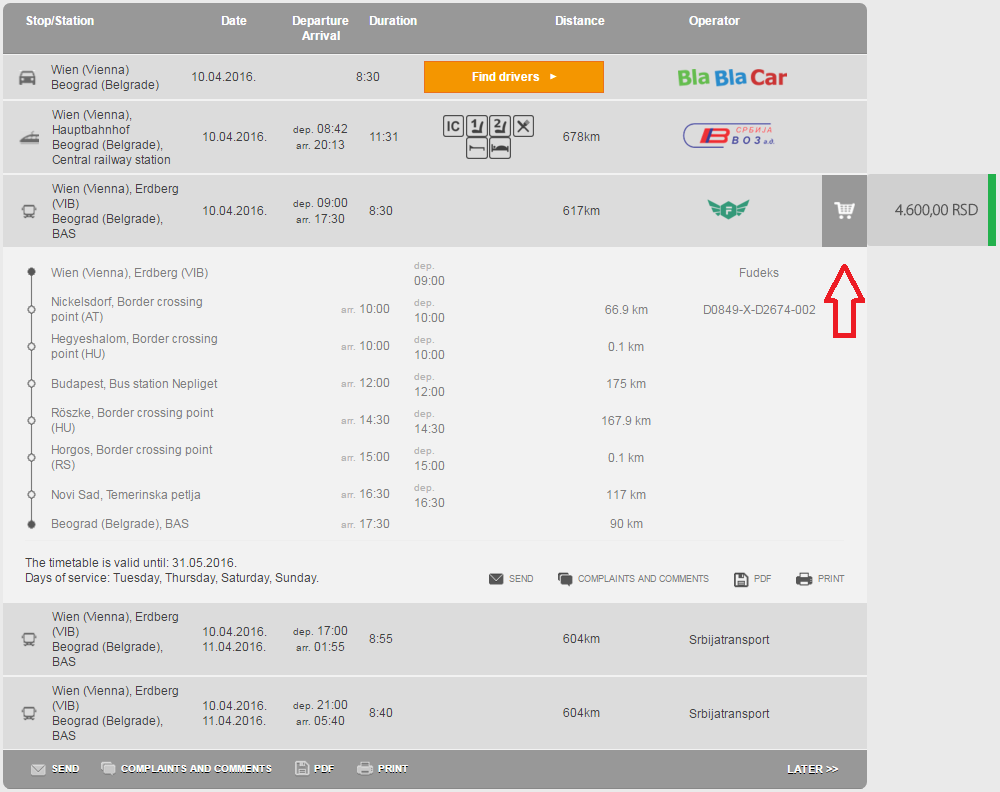 3) In the next step, you will be provided with ticket details. On the left, you can set the date of return if you want to choose a return ticket. On the right, set the number of passengers by categories (adult, pupil, child…). Under the line you can find an accurate total cost with VAT. Next, click BUY.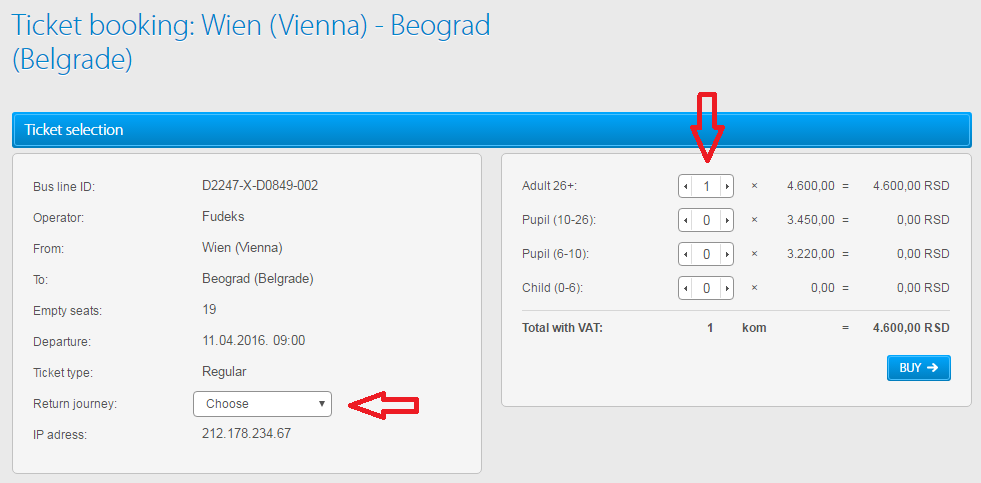 The following window might appear if you are not registered or logged in.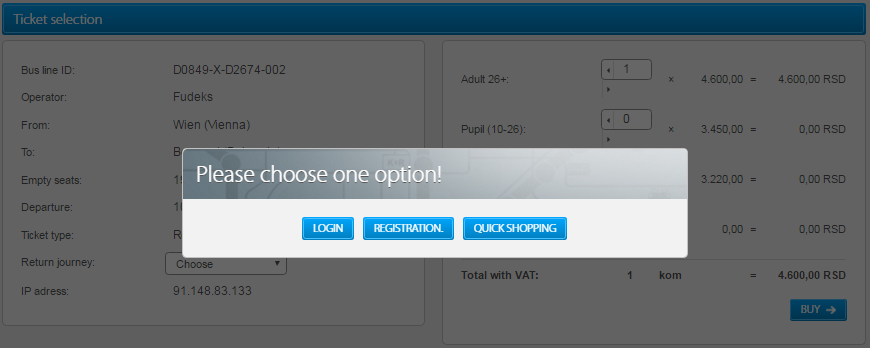 If you are not willing to register or log in at the moment, choose QUICK SHOPPING. The benefits of registration and how to register, find here.
4) To finish your booking fill all the fields marked with *. If you are registered member, save your time and activate the option "My personal data" (only if you are the ticket user). Note: The ticket will be delivered to the e-mail address you entered.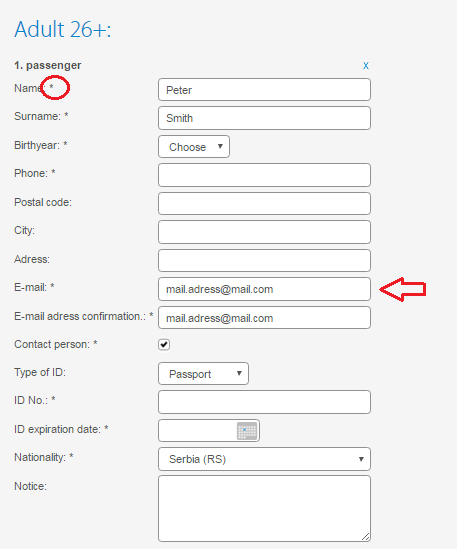 5) Choose the Payment Method: Payment card or Payment slip. Please be aware that you can choose Payment slip only if you can make your payment in Serbia in one of the outlets of Serbian Post. After payment, you need to submit your transaction confirmation at least 24h before your departure. Mark that you accept our Terms and Conditions, and operator's Condition of Carriage. In Summary check the price and click "PAYMENT".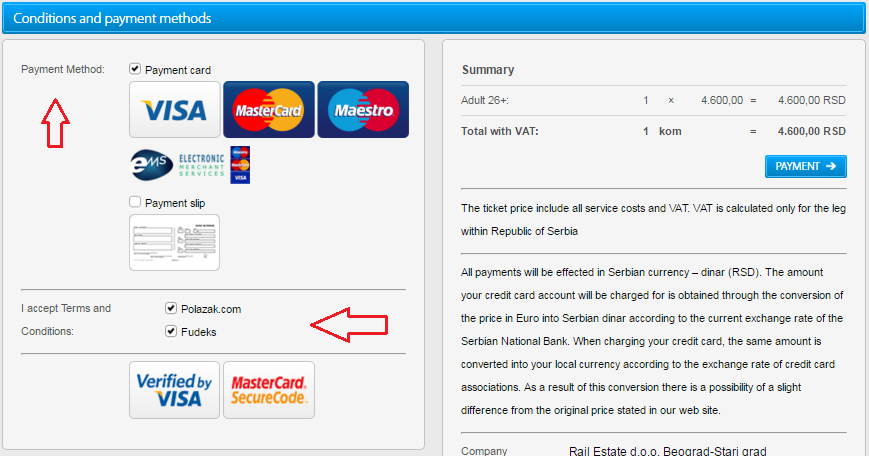 6) A) If you chose Payment card, you will be redirected to our payment processor (eMS Portal) to finish your booking. Please be aware that Ticket prices are available in three currencies: RSD, EUR and CHF, however the default currency is set in RSD in line with Serbian rules. Therefore, the final amount at the payment processor (eMS Portal) is always indicated in RSD - regardless of your currency settings.

B) If you chose Payment Slip, you will receive the payment instruction and slip sample by e-mail. Please don`t forget to submit your payment confirmation not later than 24h before your departure!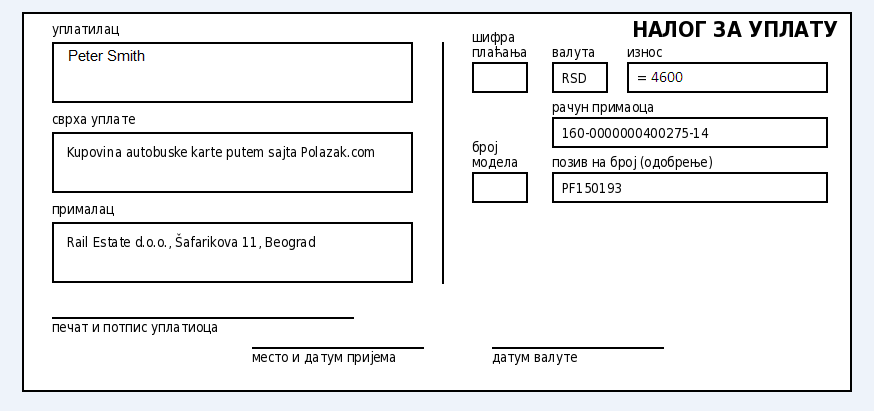 7) When the payment is done, you will receive the confirmation and the ticket by an e-mail. Print the ticket and get ready for your trip!